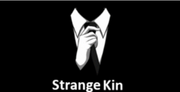 Strange Kin is a Skype based formal alliance built from the remains of Omega Company. This alliance doesn't require members be hardcore in the sense of logging constantly but they strive to remain a formidable foe.
Founding as Delta Company
[
]
Strange Kin was founded as Delta Company on 11-22-12 by leeroyjekins. Delta Company began their rein as a PAL Red Division Alliance. Amidst major inactive issues, leeroyjenkins stepped down and Donrado became the new leader.
Rebirth as Omega Company
[
]
Donrado decided to take a new direction. New rules on inactivity in alliance matches. Omega Company had a good rein. After some time Donrado decided it was time for another rebirth as Strange Kin
Rules of Strange Kin
[
]
Skype (text message) and gyazo (screenshots) are required
Zero tolerance for cheating
No GM usage in official alliance matches

Accidental usage may result in waring based on severity, excessive usage will result in suspension. Repeated offensives results in removal from alliance.
Members may usage GM in other games they join.

Maintain a respectful, civil tone at all times.

Forum posts, In-Game Chat, Skype and DE fall into this category.

During alliance games.

If there is a problem, only the Team Leader may discuss it with the other Team Leader. (External Games)
If the problem is in an Internal , bring it to the attention of the Alliance Leader or an Alliance Mod.
At all times the DE is not to be used to create In-Game problems, or start a war of words with the opposing Team or Players.

Members are asked to inform the Alliance Leader or Alliance Mods if:

They are going to be busy and can't partake in Alliance games for a set period.
They will be away from the game for a set period.
If they are leaving the Alliance
Any member that goes inactive without informing the Leader or Alliance Mods, will be removed from the Alliance after two weeks.
When it comes to Members that break the rules that are in place, each Member will have only two chances. The only exceptions to these rules are those that are stated above and lead to removal from the Alliance.
If a Member or a User not from the Alliance has any problems with someone in Strange Kin, they are advised to PM leader (Donrado) or an Alliance Mod (Matelic454 or Fitzy) with the matter at hand. All PM will be replied to as fast as possible.
Management Roster
[
]
Management Roster as of 8-31-14
| Name | Position |
| --- | --- |
| Donrado | Leader |
| Matelic454 | Moderator |
| Fitzy | Moderator |
Alliance Page
[
]