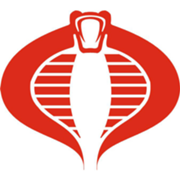 COBRA is a ruthless terrorist organization determined to rule the world. They are usually led by the ruthless COBRA Commander, although others have at times usurped control. COBRA is a selective and competitive alliance that recruits via recruitment games. COBRA is a current member alliance of Players Alliance League (PAL). They are part of PAL's Red Division.
Call Of The COBRA
[
]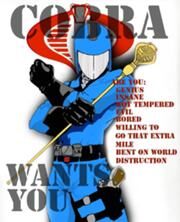 Our original membership is made up of ex-QMR Veterans Team members. We are a Skype based alliance that has two goals in mind. Winning and having a good time. We look for an understanding of the game and activity in our membership and recruit only from individuals who we play with.
Our insignia, COBRA, is reminicient of the criminal syndicate the are the nemesis to the G.I. Joe team. Every member upon full entry is given a codename that mirrors a COBRA member to use in alliance matches along with our flag and corresponding avatar.
We are currently taking a break from destruction and world domination to exercise our supremacy on S1914. We will gladly accept recruits who are both skilled and morally flexible.
Known Members (As of 6/12/13)
[
]
Supremacy Name
CODE NAME:

John Galt

The Cobra Commander - Out 

There Somewhere

Maastrict

Xamot - Acting Commander

Cromust
Decimator
Roland 

Copperhead

Scmoo
Doctor Mindbender

Correon

Destro

Warriors Empire

Major Bludd

DoGeeseSeeGod
COBRA Call Sign Unknown

ImNumBA-1

Wild Weasel

Kara Murat

Ghost Bear

Grendel
COBRA Call Sign Unknown- on hiatus

OutOfMyMind

Guillotine

coreyac

COBRA Call Sign Unknown

Smithyx4

COBRA Call Sign Unknown

Makise Kurisu

COBRA Call Sign Unknown

Son of Perdition

COBRA Call Sign Unknown

Sir Pignans

Vanguard
| Alliance Name (Challenge Record) | W/L |
| --- | --- |
| The Silver Naval Academy | W |
| United States Marine Corps | W |
| Brothers in Arms | W |
| The Death Squad | W |
| Wolves | W |
| The Marines | W |
| Omega Company | W |
| Chain of Command | 1W 1L |
| Section 8 | 1W 1L |
| Rommel is geen troep | L |
Contact Persons
[
]
PAL matches- Scmoo or Cromust
Other inquiries- Maastricht