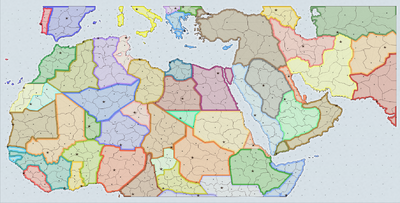 Middle East, Also called "Africa 1914" is a 28 player map spanning North Africa and the Middle East. This map, Introduced by Bytro Inc. was launched in early the Summer of 2011, however, due to technical problems the map was recalled, and was rereleased in early 2012. The Map, currently is a play by rank map, Meaning, you must be Second Lieutenant or Higher in order to play on the Mid-East Map. This map offers more land-locked countries than any other map which places emhpasis on land battles and land units.
Gold Rounds are an option for this map.
A full size image of the map with resources of each province can be found by clicking here.
Playable countries:
[
]
Africa:
[
]
Kenya
Abyssina
Sudan
French Equatorial Africa
Cameroon
Nigeria
French Upper Volta
French West Africa
Nubia
North Chat
South Niger
West Mali
Mauritania
East Egypt
West Egypt
West Libya
South Algeria
East Ageria
West Algeria
Asia Minor
[
]
Oman
Hejaz
South Arabia
North Arabia
British India
Turkestan
East Persia
West Persia
The Ottoman Empire
Southern Europe:
[
]
Non-Player Nations
[
]
Italy
Greece
Yemen
Senegal
Serbia
East Mali
Eritrea
Belgian Congo
North Niger
Tiris Zemmour
Bulgaria
South Chad
Gold Coast
Rio de Oro
Tunisia
Portugal
Mesopotamia
Russia
Sierra Leone
Afghanistan
East Libya
Somolia